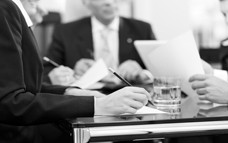 The real estate attorneys of Weber, Crabb & Wein, P. A. can assist its clients with all of their real estate and title needs across the Tampa Bay Area. Whether you need an attorney for a routine residential closing or a more complex matter, you can rely on our attorneys for effective representation and personal service.
Weber, Crabb & Wein, P. A. is a full service title and closing law firm offering a wide range of legal and closing services to its clients across the Tampa Bay Area. We take pride in our title, closing and escrow services and will coordinate your title or closing transaction from beginning to end. Prior to your real estate closing, we can fulfill title search requirements including review of liens, mortgages, escrows, easements and other matters of record.
We also offer title insurance. Title insurance provides purchasers with the assurance that they will acquire the property they intended to guarding against financial loss due to title defects should a valid claim against the property arise. We are a member of the Attorneys' Title Fund Services, LLC, one of Florida's largest underwriters of title insurance.
Just a few of the services we provide include:
Drafting, negotiating and reviewing real estate purchase contracts
Preparation and review of loan documents
Residential and Commercial closings
Title Review and Examination
Title Insurance
Recordation of necessary transfer and closing documents
Escrow Services
Weber, Crabb and Wein, P.A. are your Tampa Bay real estate attorneys serving clients throughout central Florida including Tampa, St. Petersburg, City of St. Pete Beach, Treasure Island, Madeira, Redington Beach and in Citrus, Hernando, Hillsborough, Manatee, Pasco, Pinellas and Sarasota counties. If you have any questions about how we may be able to assist you with your real estate dispute, please contact our office today.